Greentree Naturals Newsletter Spring 2012
Apprentices Joe, Felicia, and Peggy
The "greening" after a long winter is in full glory. The Mariposa lilies and wild lupine are blooming all over the wild spaces on the farm. All of the conifer trees have new, bright green growth on the tips of the branches and the first big spring thunderstorm is rumbling off the mountain tops as I write. The air smells fresh and green on this full moon in June. We are making progress getting the gardens planted, but have quite a ways to go to have all of the crops in the ground. The weather has been pretty bizarre here, and from what I hear from friends and family across the county, weather is a coin toss pretty much every day. Hot, cold, wet, dry, hot, cold again. We had a frost in late May that was 26 degrees; then two days later it was 85. I give up thinking that anything related to the weather is going to be predictable or familiar. We plan for hot, cold, wet dry, hot cold as farmers and do the best we can with whatever nature provides.
We use every kind of season extension technique available to us, and somehow manage to have a bounty to harvest eventually. This time of year we are pushing to get all of the crops in and protected from whatever Mother Nature has to give us. Two hoop houses are full of tomatoes that are thriving and growing quite well. The summer squash and cucumbers are also inside hoop houses and seem quite content with the transition from living in a pot and finally getting transplanted where their roots have room to grow and absorb the nutrients from the earth. We planted a couple of small patches of heirloom peas today (golden snow peas and blue podded blaustaukkers ). While the later sounds like something from Willy Wonka, they are purple shelling peas that are quite lovely. The sugar snap peas and snow peas are just a couple of inches tall, but finally starting to thrive. We ate our first salad for lunch today along with some fresh asparagus soup that I made.
It will be wonderful to have fresh produce again and we really look forward to dining on everything fresh from the garden as the season progresses. This time of year, we spend a portion of every day hand weeding, which is a major part of maintaining an organic garden. We hand weeded the snow peas, sugar snaps and strawberries today. After removing the weeds, we make every effort to mulch the weeded areas with aged straw to keep the weeds from returning. So, its transplant, hand weed and mulch; repeat this with every crop that goes into the ground. And when we aren't transplanting or weeding, there is weed whacking and mowing to be done. We mow and weed whack about every ten days. Needless to say, there is always more to do in a day than there are hours in the day, but we persevere and manage to keep moving forward with all that needs to get done.
We are most fortunate to have three apprentices this year. Joe came to us from Washington D.C., Felicia from California, and Peggy is from Usk, Washington. We are so grateful to have them here with us this growing season. It is refreshing to have enthusiastic, energetic, able bodied helpers on the farm. Joe and Felicia live in camp trailers on the farm with us and Peggy lives about seven miles away. They help us out three days a week and are anxious to learn about organic production.
I just celebrated my 60th birthday and am happy to report that I don't feel a day over 59! There are days that Thom and I look at each other and wonder how much longer we can work this hard, but for the most part, we feel pretty good considering how much we work. I guess it makes a big difference when you love what you do. Granted, the financial aspect of eeking out a living at this age is a bit tiring, but we keep on keepen on and are thankful for being able to keep doing this. I was gifted a new digital video camera and a MP3 player for my birthday, and look forward to using both of these new contraptions. I think being able to video some activities in the garden and share it on our website will be useful to those who can view it. Once I figure out how to download music to the MP3 player, I will be happy to listen to tunes while weed whacking or mowing the lawn.
This year will mark our 22nd year of selling at the Farmers Market at Sandpoint. The farmers market is such an enjoyable place to spend our Saturday mornings. It is always an event, lots of socializing with members of the community that we only see at the marketplace. Many of the vendors are former students of mine from the Sustainable Small Acreage Farming and Ranching course, along with a couple of former apprentices. We most likely won't take any produce for the first weeks of the market, but we will have an assortment of garden vegetables and herb plants to sell, my decorated "earth gourds", and a few new items that I have started making in the wintertime (apiarian lip balm and gardeners hand salve) along with some Elderberry tincture and an assortment of organic jams that Thom makes in the winter months. I used to set up on opening day and be there every single Saturday till the closing in October; now, our start up time is a bit later in the springtime so we can focus our time on getting the gardens planted.
We are going to push our CSA starting date back a week or two so that we have more variety to put in the weekly bags of produce that we deliver. This is our 17th year of having a CSA program and I look forward to getting to see our members every week once the deliveries begin. We would rather wait and be able to provide a bounty of vegetables than start now when we only have lettuce and kale to share with our members.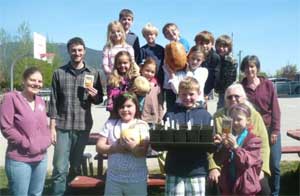 We have a number of special events planned on the farm this summer along with our annual organic wine tasting. This Thursday we have 20 kindergarteners from a nearby elementary school and 15 2nd graders from the Waldorf School coming out to transplant pumpkins on the farm. We call this the pumpkin project, which is detailed on our website. It is always quite entertaining to have the energy and enthusiasm of the children here. Hopefully, the weather will cooperate and they won't have to transplant in the rain. One thing about kids though, they really don't care what the weather is doing, they manage to have fun no matter what. This is definitely something to aspire to – to be more childlike and hold onto that sense of wonder that they have about the world.
There is plenty to be grateful for, and we make every effort to live our lives with gratitude. Let me leave you with a few words about gratitude that speak to me well:
Be Thankful
Be thankful that you don't already have everything you desire, If you did, what would there be to look forward to?
Be thankful when you don't know something For it gives you the opportunity to learn.
Be thankful for the difficult times. During those times you grow.
Be thankful for your limitations Because they give you opportunities for improvement.
Be thankful for each new challenge Because it will build your strength and character.
Be thankful for your mistakes They will teach you valuable lessons.
Be thankful when you're tired and weary Because it means you've made a difference.
It is easy to be thankful for the good things. A life of rich fulfillment comes to those who are also thankful for the setbacks.
GRATITUDE can turn a negative into a positive. Find a way to be thankful for your troubles and they can become your blessings.
~ Author Unknown ~