About Greentree Naturals
Greentree Naturals has been certified organic since 1992. Diane Green and her husband Thom Sadoski have over three decades of organic production experience. They started out selling garden crafts and excess produce at the Farmer's Market in 1990. After a few years selling at the farmers market, they expanded to sales at local restaurants, and have slowly expanded their marketing to include a CSA subscription service for farm fresh organic produce, a fresh flower subscription service, on-farm tours and workshops and on-farm events such as Sunday Brunch on the Farm and hosting an annual organic wine tasting.
A Little History About Thom...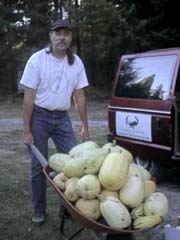 Thom grew up on land that his great grandfather homesteaded in southeastern Michigan. His family had a huge garden that he helped maintain all of his years at home. Aunts and uncles had neighboring farms that he grew up working on all of his childhood. Three generations of Sadoski's worked and lived on farms in this rural part of Michigan. As a child, the family could drive for fifty miles and have relative connections on both sides of the family. His mother came from a family of thirteen, so family is extensive and an important value in his life.
He was the first of his family to leave Michigan and head for the west to attend Oregon State University in Corvallis, Oregon. After receiving a BS in Biology in 1978, Thom began a long career of planting trees throughout the Pacific Northwest. Thom planted over a million trees in the course of twenty three years working with a tree planting crew by the name of Small Change out of western Oregon. Occasionally, Thom returns to work as a contract inspector for reforestation projects if the time of year allows his departure from life on the farm.
In 1987, Thom came to north Idaho to work on a reforestation contract for the USFS near Sandpoint. Diane was working for the USFS as a contract tree planting inspector. They met working in the woods miles from nowhere and fell in love over the course of an eight week contract. They made a date for the end of the contract and have been together ever since. They married in the center of the garden at Greentree Naturals in 1989.
A Little History About Diane...
Diane grew up in Oklahoma and traveled as a young adult in a hippie school bus during the early 1970's. She traveled extensively throughout the U.S. searching for a place to settle when she found the Pacific Northwest. After studies in plant biology and horticulture at Spokane Community College, she was offered a job with the USFS in Coeur d'Alene, Idaho working on a research project propagating native shrubs. Because she was proficient at identifying native plant species, the USFS then offered her work doing forest inventory in St. Maries, Clarkia, and Avery, Idaho where she worked seasonally until 1986 when she moved to Sandpoint. Diane was among the first women to work for the USFS in the back woods of Idaho.
While Diane is the person out in front of most of what is happening at Greentree Naturals, it is important to note that the success of farm is because Thom is a part of it. Together, they manage to balance the work load, deliveries, apprentices, farmers markets and on-farm events with a shared vision and goals compatible with their future together.
Diane serves on a number of boards for organizations such as Rural Roots (the Inland Northwest Community Food Systems Association), the Idaho Organic Foods Advisory Council, and represents small acreage farmers on for the University of Idaho College of Agriculture advisory board.
She also teaches small farm marketing through University of Idaho Extension. "I think most of the students in the university are into conventional agriculture. They need to see there are other ways to do farming; that you don't necessarily have to have 1200 acres and use a lot of chemicals to be successful as a farmer. Diversity is going to be the key to survival of farms in the future, not only how you market, but also what you grow. I always encourage aspiring farmers to establish a market before they plant. When we plant, we know where eighty percent of it is going."
Currently, Diane is serving as a consultant for the Sustainable Agriculture program for the Washington and Idaho Partnership 2020 project. She has developed a training manual for the Cultivating Success program at University of Idaho that teaches farmers how to develop on-farm curriculums for becoming certified instructors to work with apprentices.
In 2000, Diane was selected as a recipient for a Founder of the New Northwest award by Sustainable Northwest. In 2006, she was presented with a 'Steward of Sustainable Agriculture' award from the non-profit organization Rural Roots (www.ruralroots.org) at the Reclaiming Our Local Food and Farms conference in Boise, Idaho. Diane's most recent publication is Selling Produce to Restaurants, A Marketing Guide for Small Acreage Growers, now in a second edition.
A young gentleman by the name of Theron Humphrey developed a project to photograph and record stories about individuals he met with while traveling across America in 2012. One of our apprentices extended an invitation to him to come and visit Greentree Naturals and this video link is the result of that visit to our farm: http://thiswildidea.com/stories/DIANE_GREEN