Greentree Naturals Apprenticeship/Internship Programs and Farmer-to-Farmer Mentorship Program
Our program is for those who want to learn about becoming more self-reliant and connected with the earth. The skills gained are much more that simply learning about sustainable and organic agriculture, it's about living a more balanced and harmonious lifestyle, respecting Mother Nature's perfection, and living a simple life on the farm.
Ideal applicants for this program have a passion for joining the sustainable food movement and can come from a wide variety of academic and work backgrounds: new and aspiring farmers, career changers, back-to-the-landers, urban and community gardeners, students of sustainable agriculture, environmental studies or nutrition/culinary arts, educators, veterans and activists who want to promote and sustain local food systems.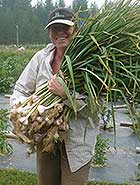 Practical hands-on training coupled with higher education, is an ideal way of acquiring skills needed to become a successful grower. Focusing on natural and organic resources, apprentices/interns/students will explore different aspects of organic farming, food production and gain an understanding of sustainable agriculture. We provide a unique blend of classroom and hands-on training that emphasizes learn by doing.
We have offered an on-farm apprenticeship/internship program since 1997. Diane and Thom play an important role in helping to train and grow the next generation of small acreage organic farmers. Diane is accredited through University of Idaho College of Agriculture as a Farmer Mentor with the Cultivating Success program. Our extensive on-farm curriculum provides options for college credits through UI and WSU. We have worked with a number of undergraduate and graduate degree students and their university advisors over the years doing on-farm research, and are open to expanding our research programs for other accredited institutions. This apprenticeship/internship program has a strong formal educational component and participants are asked to pay a modest tutorial fee. Partial scholarships may be available.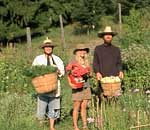 Working as an apprentice or intern on an organic farm is one of the best ways to learn about farming. We have developed an intensive program for aspiring farmers and food systems advocates that provides hands-on, skill-based education in sustainable agriculture. This three day a week program will provide an intense, supportive experience that will provide a deeper understanding of agricultural management and small-scale organic farming, and the entrepreneurial skills to start your own operation. Previous farm or garden experience is preferred but not required. Our goal is to provide this alternative education experience to as many people as possible in order to stimulate a renewed interest in organic production, rural communities, and sustainable small farm agriculture.
Apprentices gain the practical skills of organic farming through daily participation in farm tasks – from planting to harvest, marketing through sales at the farmers market, a small CSA program, and sales to restaurants. There are many activities on the farm that are described throughout our website that include apprentice participation. We have two rustic camp trailers for "work stays" on the farm, or we have a couple of off-farm, low cost rental situations nearby that may be available. Apprentices/interns are not required to stay on the farm.
An apprentice/intern will learn all aspects of organic production practices. In May and early June, the focus is on planning the garden, preparing the soil for planting; direct seeding & transplanting; season extension, companion planting, intercropping & crop rotation, planning for succession planting, assessing soil health, organic amendments, compost, manures, organic matter & foliar feeding.
Options for participation
Apprentices/Interns: This is typically the most intensive way of participating on the farm during the growing season. This program is usually a three day a week commitment of 24 hours/week, for approximately 16 weeks, beginning mid-May and usually ending September 30. We are willing to develop a learning agreement for a specified period of time that meets both of our needs that may be less than three days a week. These apprenticeships/internships are open to the general public, students, beginner farmers, and veterans interested in learning about small acreage farming and organic gardening. It is not required that you stay on the farm, however housing may be available.

Academic Internships: Internship program typically occurs May through September, adapting the timeline with the students specific needs and course requirements for earning college credits for on-farm research or continued education credits. On-farm time can be scheduled around school courses and activities. Sophomores, juniors, seniors and graduate students will gain real life exposure to different aspects of working and managing an organic farm. We provide opportunities for graduate students to carry out on-farm research projects as a stand-alone project as well. To be eligible for an academic internship, a student must be enrolled as a full-time student at an accredited college or university. Eligible interns may also register for and earn academic credit from their college or university for the time they intern at Greentree Naturals.

Less intensive options: Individuals can also participate on the farm for a short-term learning opportunities. This program is intended for providing training or guidance for specific subjects and learning goals for a predetermined amount of time. These less intensive options can be designed as a short or long-term consultation where we work with you to develop a learning objectives with scheduled meeting dates. Farmer-to-Farmer mentorships are available by scheduling one-on-one mentoring in person or by utilizing electronic or telephone communications. We also provide volunteer opportunities for experienced gardeners. Other options may include participating in the Organic Gardening Workshop series or other periods of time that can be arranged and put on a regular- schedule that coordinates with what is happening on the farm for educational opportunities.

Both apprentices and those participating less intensively can do so as volunteers (no academic credit) or as interns (for academic credit). In addition to completing field work, interns will complete written work (and pay fees) to complete internship requirements.
Click here to read the On-Farm Apprenticeship/Internship Overview

To apply: Contact diane@greentreenaturals.com. We prefer to receive your application before March 1. Early applications will be given priority over those received later. If you have any questions, please contact Diane via email or by calling Diane at (208)263-8957.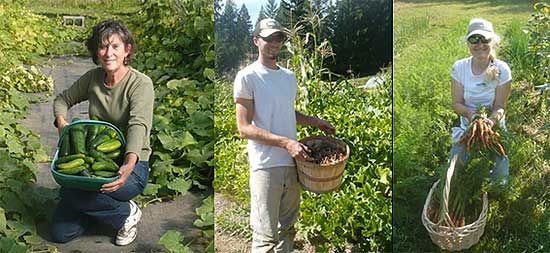 Farmer-to-Farmer Mentorship Program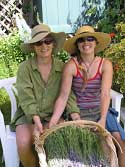 We also offer a mentorship program, which is different from our apprenticeship/internship programs; the new farmer is not required to help on the farm, unless it is agreed that this would benefit the mentorship. The mentorship is designed to share practical information on day-to-day activities and to help improve skills and operations of an existing farm. It is a process for beginning farmers to learn from our farm experience in order to assist them with farm business management challenges

As a mentor, Diane will visit the mentored farmer's home farm site at least once, and is available for phone calls and emails as mutually agreed. She can help identify necessary resources (Physical, financial, personal & educational) to meet your personal farm goals. Mentoring is also a means of raising self-esteem and the level of confidence needed to be a success. The mentored farmer is asked to pay a negotiable stipend and travel expenses as needed.

Mentorship Option one: You pay upfront a $250 mentorship fee that would entitle you to an on-site visit/evaluation to your place + 5 hours of mentorship time. The follow up one-on-one mentoring could be on the phone, over the internet, or one-on-one at Greentree Naturals through the growing season.

Mentorship Option two: You pay $125 mentorship fee that would entitle you to an on-site visit/evaluation to your place and you pay $35/hour for follow up one-on-one mentorship which could be on the phone, over the internet, or one-on-one at Greentree Naturals. An on-site visit will provide a written assessment with suggestions and resource information.

Click here to read about Consulting services



Apprentice Perspectives
I asked our apprentices from recent years if they wanted to share their viewpoint of personal experiences spending time on the farm at Greentree Naturals. I wish that I would have thought of this many years ago. Be that as it may, years ago, I never would have thought of having a website or the opportunity to share such anecdotes. I feel it is important to note that a number of young men have apprenticed with us over the years as well. It just happens that the young women are the ones who have chosen to share their point of view with you on our website. The following perspectives are what our most recent apprentices wanted to share with you.
Brad Huhta / Summer 2017
Email: burntstump @gmail.com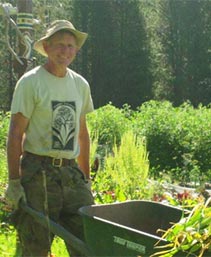 I spent two days weekly with Diane and Thom on their organic farm. It was a summer of vulnerability and new experiences for all of us. I was newly retired and adjusting to a new life. Thom was recovering from surgery at the beginning of the summer and then Diane fell and broke her ankle, an injury that would take until the fall to heal. I felt a lot of personal support from Diane and Thom, and felt they were very open to the support I offered to them even as I was the apprentice and they were the mentors. The general theme for the summer was healthy lifestyle - practicing what you preach. They are great mentors for this: living simply and within their means, being happy with what they have and not chasing rainbows around the country, accepting the limitations that life puts on us (though there were times they both struggled with not being able to work as much as they wanted!).
Gardening was put on hold for a few days when the air quality turned horrible due to forest fires. I appreciated their making our lungs a priority over getting work done in the garden. The specific theme for the summer was organic gardening and working with them was like being inside a living encyclopedia! They were always open to any question and had answers based primarily on experience but backed by scientific theory. They were also very open to questioning the world around them, including reassessing if how and what they were doing in the garden was best. For example, we planted half the brassicas using a no till method and half using their usual tilled method. Early on in the year, the no till plants seemed bigger and more vigorous but by harvest the two methods seemed similar. It was not a definitive trial but showed me their inquisitive and flexible nature.
The weekly workshops were a highlight of each week as the focused learning was very good, Diane's pumpkin or rhubarb bread was delicious, and it kept us out of the heat of the summer! I recommend the workshops highly! It was a overall a very valuable and educational time for me and I hope the start of an ongoing relationship with two of the caretakers of the earth.
Linda Kirchman / Summer 2014
Email: lindakirchman@gmail.com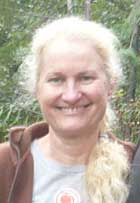 I realize I wasn't exactly your typical apprentice. I'm in my 50's and not headed for college or even starting out in life. But I love gardening; all aspects of it. I really wanted to learn how to farm organically.  Diane and Thom at Greentree Naturals were kind enough to accept me and show me their way of life. I loved every minute of it (except for planting bunching onions! It was like planting hundreds of plants the size of pencil lead). It's hard work but so satisfying to watch the garden burst with veggies and flowers and to know that it was all accomplished without chemicals. Personally, I'm taking what I learned and incorporating it into my own garden. I'm excited about future growing seasons and a healthier life. Thank you Greentree Naturals for a wonderful learning (and fun) experience!
Griffin O'Hara / Summer 2014
Email: griffinohara@gmail.com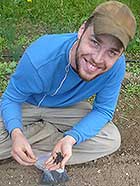 Greentree Naturals is a little bit of everything. When I apprenticed at the farm, Diane and Thom were both teachers and mentors to me. I spent three days a week working on the farm, and the other days exploring Lake Pend Oreille and working in Sandpoint—the nearby town.

When I was there, Diane was in charge of the apprentices and the (roughly) bi-weekly workshops she would hold on varied subjects such as pest control and fertilization. Thom was in the fields, often splitting his time between weeding and chasing after one pest or another. Diane and Thom would delegate work for the day to Linda (the other apprentice at the time) and I, which was usually some combination of weeding, fertilizing and mulching, and occasionally helping prepare produce for market.

Farming is not for everyone, a lesson I learned well in my stay there, but Greentree Naturals attracts the kind of people who are genuinely passionate about farming and gardening for sustenance. In addition, Thom and Diane are some of the best teachers out there, since they not only teach and refine the skills that enable them to grow amazing produce, they demonstrate the whole process from seedling to market and CSA.

Laura McKinstry / Summer 2013
Email: laura9jean@gmail.com

I arrived on the farm with less than a little knowledge of farming and a few suitcases. I left with more than a lot of farm knowledge, 4 amazing friends, two mentors, and a vast appreciation for the little-big town called Sandpoint. I have been richly blessed to be able to live on the farm this summer. Not only was Diane able to teach me farming basics, she also offered me a new perspective on how running water, toilets, and electricity should be treated with reverence and never taken for granted. Living in the Airstream out back behind the farmhouse for a summer is an experience I recommend to everyone! All-in-all, Greentree is an excellently run small-scale organic farm, and to boot it's also gorgeous! If you want to learn more about farming, this is an amazing place to do it. I feel prepared for the reality of farming (which is HARD but GOOD), and I'm so thankful to Thom and Diane for taking their time to teach me how to farm! I'm off to finish college and to continue learning all I can about how to grow food well!
Laura joined the Peace Corps in 2015 and will be working in Zambia as a community coordinator and activist encouraging Zambians to adopt sustainable farming practices for two years. Following this, she plans on pursuing a degree in International Agriculture at UC Davis.
Hilary Morton / Summer 2013
Email: hilarymorton84@gmail.com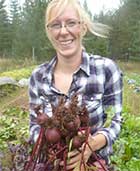 My summer at Greentree was definitely the best and most rewarding summer of my life. Thom and Diane took time to teach us so much, the quality and depth of the things I learned still surprises me. I would love to go back for another summer or two! I was fortunate to be able to work alongside four other apprentices who taught me lots about adventure, new ways of life and who provided unlimited and hilarious entertainment! The farm is just adorable and its local surroundings are seriously beautiful, I'm so thankful that I had the opportunity to get up-close and personal to so much of it! It really was a summer I will never forget!
Hilary and her partner Deven bought a small urban acreage in Spokane, Washington and are in the process of developing a sustainable urban small farm enterprise that will include antique variety apples, a market garden, and heritage breed chickens.
Caitlin McCoy / Summer 2013

As the Sun rose each morning, I would open my eyes to the day which would meet the sound of chickens calling on the other side of the farm. Out of the window laid the 2 acre organic garden, buzzing with life and flooded with color, surrounded by mountains that seemed to provide a sacred protection to the land and our farm lifestyle from the outside world. I would get out of bed to walk up the dirt path carrying an empty pail, which I used to haul water each day. On the walk back down to my trailer, I would also carry eggs, laid freshly that morning that I would eat to sustain me through the hot summer days of farming. The choices I made each morning were basic: food, simple clothing and lots of hydration. No emails, no meetings - my mind and soul were free to absorb all of the information genuinely shared by Diane, Thom and the other apprentices I was blessed to work with. Working on the farm, for me, spiraled from the fundamental knowledge of learning how to grow food, outwards to how to grow community, how to better respect the land that I walk on and perhaps most importantly - how to have a peaceful relationship with myself.
One of the more salient experiences I gained from my time on Diane and Thom's farm was the importance of integrity in all realms of life. Diane allowed us a gracious amount of freedom on the farm to experiment, take leadership and find our intuition all in efforts to learn; however the learning experience was defined by us as individuals. Never one to soften her ideas, I revere Diane for being steadfast in her accuracy and precision when sharing information or adding insightful stories. A natural consequence of her organic wisdom and years of experience was my immediate trust in her knowledge, what transpired later was a deep respect for her as a person and eventually as a mentor. She will take the time to explain her methods, she will be honest in her answers and she will certainly ask that anyone try their best each day, reflect and then rejoice. The lessons learned at Greentree Naturals are certainly focused on growing food, but can easily and joyfully be applied to creating a positive lifestyle with loving the Earth and life itself at the core.
Diane told us on our first day that the only expectation she would have would be to enter the garden each day "with joy in our hearts." It was amazing to feel how much my heart could expand in just one summer. I am extremely grateful for my time with Thom and Diane, and know that the practical knowledge, amusing stories and lasting relationships I built last summer will forever sculpt my path through this life.
Justine Schneider / Summer 2013

Working as an apprentice at Greentree Naturals was a unique and wonderful experience. If I learned anything, it was that growing organic food is hard work. I will never look at the produce at the farmers market the same way - I will now hug, thank, and pay the farmer extra for lovely organic, local produce! This line of work is a labor of love full of hot sun, cold rain, dirty hands, and tired backs. However, it was by no means that of slave-labor. The beautiful garden, the unfolding of the seasons, and the company of four other inspiring, brilliant women filled the days with great joy and humor. We worked with the weather and the days flowed with the rhythms of the different crops coming to fruition. When it was raining we worked planting peppers in the hoop houses; when it was hot we harvested tomatoes in the sun, and when it was too hot we went to the lake, camping, hiking and exploring the gorgeous surrounding nature!
Each day we received a delicious, healthy meal (Diane is an excellent cook) and we learned in-depth all that goes into producing a weekly organic CSA share program. Diane is a skilled teacher, writer and pioneer in her field. She is also an artist and we learned beautiful crafts such as garlic-braiding. Our classes were both highly practical and interesting. By the end of summer we were caked in a permanent layer of dirt and our squash-wipin,' bean-pickin,' garlic-brushing souls brimmed with new knowledge and purpose, each in our own ways. The summer of the farm girls was a great experience that will never be forgotten. I highly recommend this experience to anyone wishing to learn more about all that goes into growing local, organic food.
Justine is currently working on earning an Associate's degree in Horticulture and Nursery Management, studying with an herbalist, and working towards becoming a certified Horticulture Therapist in northern California.
Joe Fortier / Summer 2012
Email: fortier.joseph@gmail.com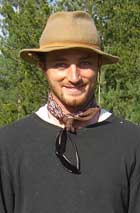 Looking back over testimonials from all the past apprentices it's hard to figure out what hasn't already been said about Greentree Naturals. It's no surprise to me that they have all been overwhelmingly positive reviews; my apprenticeship at the farm was one of the most rewarding experiences and best summers I can remember.
What I appreciated the most about working on the farm with Thom and Diane was their commitment to teaching. Apprentices at Greentree Naturals are not cheap labor; they are students first and foremost. I'm sure a lot of the work we did over the summer (to be clear, there was work - planting, weeding, harvesting, weeding, preparing CSA's, weeding) could be done much more efficiently if Thom and Diane weren't taking their time to explain each and every process to us. But they did take the time. They let us screw up and they let us learn; they taught us to laugh at our mistakes and to enjoy the work we were doing. When I set out to find a farming apprenticeship I was simply looking to acquire some practical skills and get an inside look at life running a small farm. From Thom and Diane I learned So. Much. More.
It's difficult for me to put into words just how grateful I am to have had this experience. To future/potential apprentices I'd say: if you're eager to learn, willing to work, and have a good sense of humor then a summer at Greentree Naturals is an opportunity of a lifetime!
Felicia Gealey / Summer 2012
Email: felicia82@gmail.com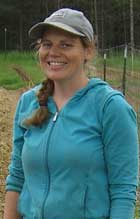 I am incredibly grateful that I had the opportunity to begin my farming career under the tutelage of Thom and Diane at Greentree Naturals. Having dabbled in gardening over the years, it was thrilling to finally be working on a farm and getting real hands-on experience preparing the soil, planting, weeding, mulching, harvesting, processing, and seed saving. Thom and Diane do an excellent job sharing their knowledge and experience, and making this apprenticeship educational, fun, and rewarding. It was easy to fall in love with farming at Greentree Naturals, surrounded by natural beauty and in the company of Thom, Diane, and my amazing fellow apprentices.
People come from all over the country to apprentice at Greentree Naturals, and many of them end up staying in the Sandpoint area. With the region's abundant natural beauty and burgeoning organic farming and local food movement, it ended up being a really great area for me to begin to explore growing food. Thanks to Diane's connections, I had the opportunity to visit and volunteer at several other farms in the area. I was a weekly volunteer at Hoodoo Valley Farm, a goat farm and dairy run by former Greentree apprentice, Susanne Wimberly. I loved learning about goats, milking, packing cheese, and doing my small part to help Susanne with her incredible work load.
If I've learned anything this summer, it is that farming is a labor of love, requiring ample blood, sweat, and tears. But growing organic food for the local community is also the most rewarding work imaginable if you care about the future of the planet and the quality and nutrition of the food we eat.
Felicia apprenticed at Persephone farm on the Kitsap Peninsula in 2013. She returned to California where she has been studying sustainable agriculture and horticulture at Santa Rosa Junior College.
Peggy Welsh / Summer 2012
Email: pwelsh60@hotmail.com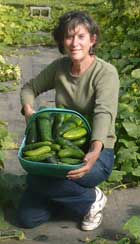 I came to Greentree Naturals as a long-time home gardener, student of sustainable agriculture, and aspiring farmer. I'd taken classes through the University of Idaho's Cultivating Success program, and Diane's Organic Gardening Workshop series. My next step was an intense, first-hand experience on the farm. Understanding the realities of operating a farm business, gaining confidence that I could succeed, and networking with other farmers were among my primary goals for the summer. I knew there were invaluable lessons I could only learn by actually being a part of the everyday activities on the farm. Still, I had no idea how much I would learn, both about farming and myself! My time at Greentree Naturals far surpassed everything I had hoped for. I completely recommend Diane and Thom's apprenticeship program to anyone who is interested in making organic food production and local food systems an integral part of their lifestyle.
To cultivate means "to foster growth." Greentree Naturals is a very special place where all living things – plants, animals, and people are treated with high respect and encouraged to live richly. Life and relationships are never taken for granted and are to be celebrated. Thom and Diane believe in working hard, but having fun. I woke up every day, excited to work on the farm - actually it never felt like work because I was enjoying myself so much. Each day held something new to discover. And if I made a mistake, it was just another opportunity to learn, (and something to tease me about later!). The farm and marketing knowledge I gained, friendships I built, and life insights I gathered are gifts I will always treasure and benefit from.
Peggy bought 10 acres near Pullman, Washington and is working towards establishing a sustainable small acreage farm where she is developing a market garden and exploring options for grass fed beef, goats, and possibly other livestock opportunities.
Nina Peterson / Summer 2011
Email: nina.peterson@yahoo.com
I have always loved plants and having a garden. I went to Greentree Naturals hoping to learn to grow a healthy, sustainable organic garden of my own and knowledge that I may pass on to my five children. But I learned much more. I never realized what it would take to grow enough food to sustain a family let alone a community. The back breaking, knee crunching, finger swelling lovely rewarding pains… there was a lot of refreshing work and food. Diane always prepared us an amazing yummy lunch with the foods we had the pleasure of harvesting!
After weeding and weeding and weeding......transplanting..... it seemed almost instantly the fruit of your labors are here. Watching it all unfold is kind of spiritual to me; at that moment it seemed as if that is what life is about, simple yet complex. When I would drive home at night after a day at Greentree, I felt centered and thankful that Diane and Thom allowed me to take part in their garden and life this summer. I learned so much about the physical, financial and emotional work that goes in to a sustainable organic garden. Thom and Diane are some of the hardest working, compassionate and patent people I have known. While they were teaching us to cultivate peas, green beans, tomatoes, squash, etc..........they were cultivating us!
My summer at the farm was a wonderful life experience full of new friendships and knowledge. I cherish it!
Nina and her family purchased a small acreage farm just outside of Sandpoint. She has a small home garden, raising her own beef and milk cow, and has chickens and goats.
Jennifer Heller / Summer 2011
Email: jenniferheller@yahoo.com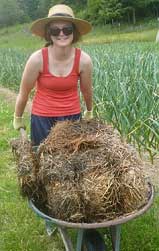 When I first got a phone call from Diane saying I had a summer position at Greentree Naturals if I wanted it, I went into a bit of brain shock. Really? Me? I'm sure after Diane and Thom saw my voracious appetite in action at the lunch table, or when I miscounted produce piles on harvest day for the 14th week in a row, they were thinking something along the same lines... "Really? We picked her??"
The thing about Diane and Thom is, they did pick me. They saw I was willing and eager to learn, and they answered all my questions -- even the dumb ones -- with patience and the voice of experience. I had gardening experience before I came to Greentree Naturals, but I came here to learn more ways to "do it right," and I wasn't disappointed. Summer weather barely made it in time for fall this year, and while the snow peas flourished, it was a rare and wonderful experience to watch the fine line of farming, to walk through a "bad" year with Greentree Naturals. Not only were Thom and Diane honest about everything that differed from previous years, the farm itself taught me a lot about the fragility of this whole venture. The lessons I learned were valuable ones for an aspiring grower.
This is not to say there weren't any good times, of course. There wasn't a single day this summer that I wished I could be elsewhere, even though I had a few misgivings as I blew into town with the last snowstorms. We fought some valiant gopher wars, met some interesting "bug people," entertained a TV crew, cleaned an awful lot of garlic, and shared some great stories and laughter. I'll always think of the summer of 2011 as one of the happiest, simplest, and most fulfilling summers of my life.
Jen stayed in Sandpoint and is currently working at an optometrist office. She is a Greentree Naturals CSA member and maintains a small home garden in town.
Angela Anegon / Summer 2009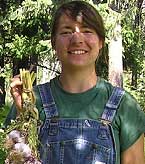 Email: angelaanegon@gmail.com
"There is always something." This little phrase was frequently used by Diane over the course of the summer I spent with her and Thom on the Greentree farm. Mostly used in regards to the unending list of projects and tasks to be completed, it was a phrase that manifested itself into various meanings for me. As I learned about the intense nature of what it means to be an organic farmer, I realized that "something" is a heavy euphemism for the labors of the lifestyle. There are always plants to be seeded and transplanted, fertilizing to be done, new pests to be squashed or picked off plants in the dead of night, weather patterns to be humbled by, animals to feed, new weeds to be pulled up, or beautiful vegetables to be harvested, washed, and marketed. From an outsider's perspective, all these tasks might seem tedious or overwhelming. Well, they sure can be. However, the effort put into making a living from cultivating the land transforms the "something" labors into fulfilling connections with the earth, the food that it provides and, most importantly, the lives that are nourished.
During my summer at Greentree, I was fully engrossed into a way of life that is hard work but eternally rewarding. I not only walked away with an immense amount of knowledge on organic farming practices and small farm business, but I cultivated new memories that I will be sharing with people well beyond the days that I have my own land to farm. I have nothing but gratitude for Diane and Thom to allow me to work their land in exchange for what I believe to be the necessities of life: fresh food, water and air, a place to sleep, and wisdoms from the worldviews of people who are passionate and honest. Those wisdoms alone, about living within the land and the connections amongst people and food, are the "something's" worth laboring for and worth preserving for my generation and generations to follow.
Angela is a Graduate Student at Kansas State University working on projects to evaluate the perceptions of local food systems and the barriers of marketing to institutions.
Erin Morra / Summer 2009

Email: emorra@gmail.com
Thom and Diane have created a wonderful place to live and learn. I cannot imagine a better setting to learn in, or better teachers from which to learn. I now know how to select seed to create my own plant varieties for a given climate, how to harvest and when to harvest different plants, how to control pests the organic way, how to store the harvest, as well as many other vital parts of organic farming.
My time spent on the farm was probably one of the most rewarding summers I have ever had. Along with all of the nuts and bolts of farming, I also now know how important it is to find your place in the world doing something you love. When you find that, going to work in the morning and finishing projects is something you do because you can and not because you have to.
To sum it all up, this summer I was a gosh darn bean-pickin', beet-washin', squash-wipin', lettuce-weedin', basil-pickin', cutworm-huntin', pea-eatin', broccoli-harvestin', lettuce-pickin', kelp-waterin', grasshopper-chasin', chard-cuttin', bean-throwin', flower pickin', CSA makin', hobbit hut-cookin', seed-savin', scape-clippin', leek-pullin' apprentice. And I wouldn't have traded it for anything else.
Erin is a soil conservationist with the USDA Natural Resource Conservation Service in Idaho.
Ryan Arnold Summer 2008

Email: ryanarnold@vandals.uidaho.edu
I came to Greentree Naturals with a lot of thoughts, ideas, feelings, and goals of what I wanted to learn, how I wanted to apply this knowledge in my personal and business life, and I think most importantly how I wanted to use this experience to enrich my life and perhaps change my perspective. Looking back on my time with Diane and Thom, I can't imagine spending my summer any other way and are so appreciative for them sharing their knowledge, experience, support, and laughter for the four months I had the honor of being with them.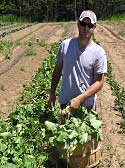 It's been said that the three most stressful times in your life are graduating college, finding a new career, and getting married. The summer of 2008 was the summer when all of this was going on in my life. My time at Greentree Naturals gave me a sense of calm during this exciting time of my life, a new appreciation for food, wildlife, and the complexities of the earth, a new lifelong skill and appreciation for growing food, and perhaps some necessary counseling and mentoring from two of the most caring and understanding people I have spent time with.
I believe that I came to Greentree Naturals for the many of the core reasons that people are attracted to organic farming in general: The appreciation of food, the love of the earth, and the yearning to connect those two somehow within your own life in a meaningful way. I found this everyday working with Diane and Thom. I learned to be at pace with nature, and in turn, be at pace with myself. I learned to appreciate the small things, and the simple things, but also came to realize that nothing from the earth is as simple as it seems, and that natures complexities can be quite humbling everyday. Finally, I learned the labor of Love, and that not only do good things happen to good people, but good things also come from good people as well. I feel there is no better representation of this than the wonderful organic foods being grown by Diane and Thom at Greentree Naturals.
For those of you considering being an apprentice at Greentree Naturals I can only try to convey my experience to you in the way I remember it, and will always appreciate it, hoping my words do this special place justice. I cannot tell you will have the same experience that I did, but I can lend you my advice. Whatever reason you are considering an apprenticeship at Greentree Naturals, go in with an open mind and an open heart, and your summer will be one you will always remember and cherish.
Erin Bohm: Summer 2007
Email: erinkaarina@yahoo.com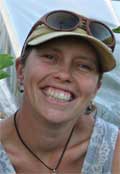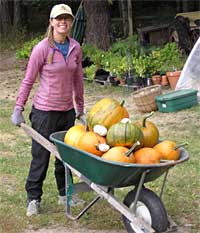 "Doing an internship" can mean many different things, but what I experienced at Diane and Thom's farm was, in my opinion, the highest expression of the internship concept. It was what all internships should be: a concentrated period of education, mentoring, experimentation, reflection and fun! It was an exceptional example of how fulfilling a trade can be; I feel like the labor I offered was repaid a hundred times over every day that I spent at the farm. For every row weeded, planted and harvested, my hands, ears, eyes and mind took in seasons upon seasons of valuable knowledge, distilled down by Diane and Thom into a fun conversation or a story that became a lesson. History class, biology class, life skills class, oh and of course horticulture class, were always going on. But, instead of sitting in a chair in a classroom I was kneeling in the soil on my kneepads scribbling away on my grubby pocket notebook made of stapled scrap paper. Dozens of tidbits of information, giant in their value, trickled out of every task and needed to be jotted down somewhere right away as there were too many in a day to be remembered. Each one represented volumes and they were given freely, mine to keep. It has all been hard-won and yet is happily and patiently shared. The nature of our shared time is a piece of a larger oral history, as vital to an education as any text.
And then there was lunch! Watching my body respond to being fueled by such healthful food, air, water and, did I mention, FOOD, was also an education. What would happen if we all ate fresh food everyday? What might change in our minds and bodies, our cities and towns, our relationships and lifestyles? An overwhelmingly attractive concept that I learned for the first time at Greentree was the implications of having, or not having, local food systems. Diane and Thom's clarity and passion around this holistic concept was brought home in my everyday experience at the farm. I am taking away with me a taste of what it could be like to truly live a life that is sustained locally. Achieving such independence from manipulative commercialism and building a foundation of self-sufficiency is not only a personal goal, but it is my activism. By spending time with Diane and Thom my goals and ideals found footing in tangible knowledge and I got a chance to feel what it is like to have my visions for the future enthusiastically supported!
Erin now lives in Mancos, Colorado with her family, and is the director for their School Garden project where she teaches the kids how to grow a garden.
Emily Levine / Summer 2006
Email: emily.levine@gmail.com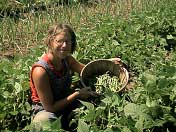 Beans! When I think back on my summer at Greentree, the first thing I think of is beans. Long, daunting rows of them, loaded with crisp French filets waiting to be picked, bagged, and dispersed to CSA members all over town. Though a small backache ensued, picking beans was a labor of love, as was every garden chore this summer. It was truly a blessing to be involved in such a beautiful process from seed to plate, and to provide such a wonderful and necessary product to the community.
If I learned one thing this summer, it is that I could do this every year for a century and learn something new every day. From catching and identifying pests to finding new ways to package and market produce, this apprenticeship was invaluable. No matter how much or little you know about growing food or flowers, nothing but a full summer (or many more!) of working on a commercial farm can prepare you for starting your own.
Emily decided to stay in the Sandpoint area and has started farming on a small piece of land and selling at the farmers market.
Christine Malek / Summer 2006
Email: male8729@uidaho.edu

Greentree time. It is difficult to imagine living in a 12x15 camp trailer with no electricity or water but it was great. My time on the farm of Greentree Naturals was magical and fantastic. I did not realize the amount of marketing that went into farming. That was one of the most invaluable parts of the experience for me. If you are a farmer in a new area or an old farmer in your tenth season you need to take a look at the other farms around you. Fill the gaps. I am looking to move to the Olympia, Washington area and the first thing I noticed when I visited their Farmer's Market was that there were no Golden Beets. I automatically thought, "If I moved here I could corner the market on Golden Beets."

It is very satisfying to wake up in the morning and go down and put your hands in the earth. It is more than the act but the planning behind it. There are months of work and though behind a garden. I will always follow the advice of starting small. It took decades for Greentree to get as large as it is. I don't see them stopping anytime soon but at first it was just the circle garden. It is like being a parent. You must first have a baby before a teenager. Plants are a lot of work. Thankfully the work at Greentree was fun and educational. I will apply the education from there to my future gardens and farms. My summer and six credits from the University of Idaho at Greentree Naturals gave me a practical and enjoyable view of sustainable agriculture. I wish everyone were so lucky.
Christine graduated from University of Idaho and moved to Olympia, Washington where she is working at a local food Co-op.
Anastacia Kampe / Summer 2005
Email: anastaciakampe@msn.com


My name is Anastacia Kampe. I found Greentree through a website recommended by a professor at University of Montana last spring. I drove up north to Sandpoint to get further acquainted with people and surroundings and to my delight, was offered a position. I worked as a full time apprentice at the farm for the 2005 season.
It is going to be difficult to accurately put into words the experience that unfolded at the farm. The farm is so much more than a piece of land that produces delicious organic vegetables and flowers, some so brilliant that they are almost hypnotic. What makes Greentree so special are the people who live there and create the hospitable atmosphere.
Diane and Thom live, play and work hard on their land with a dedication, care and intention that is incomparable. Other folks; long time friends, community members with a new interest in organics, and interns from years past are more people that add to the beauty and character of the farm. The character of Greentree is further enhanced by the life in the earth, plants, and resident animals, and also the wild ones that drift through (both on wing and foot) to remind me that I am part of a much larger system. The connections made between the earth and the elements, by the farmer, apprentice, consumer, teacher, student, and friend this past summer are ones that I will carry with me for the rest of my life. I am grateful that I was able to be a part of such a unique community that thrives with such grace and intention that is Greentree. (See bottom of page for 'The Tomato House Story'.)
Ana has moved to Paonia, Colorado where she is working with the Valley Organic Growers Association. Her goal is to develop an adopt-a-farm program that works on building relationships between local growers, students and their food.
Susanne Wimberley / Summer 2004
Email: suswim123@yahoo.com


I came to Greentree Naturals in June of 2004 not knowing much more about vegetables other than I liked to eat them and therefore wanted to know how to grow them. When I arrived, I expected to learn what it means to own a small organic farm, how to garden, and how to sell the fruits of my labor. These subjects were covered in depth and I was amazed at how much I learned without even realizing it.
We helped with all of it, from planting, to weeding, to harvesting and processing. Organic farming is 50% weeding and way more work than I ever thought it would be, but it was by far the best summer of my life. I met the most amazing group of people, lived in one of the coolest places in the US, and have two new priceless friendships with my former co-apprentices, and all of this while learning!
If that wasn't enough, there are not enough good things to say about Diane, her wealth of knowledge, her respect in the community, and her kind nature. She will no doubt be the greatest person you ever work for. Greentree will always have a special place in my heart and I highly recommend the apprenticeship.
Susanne has gone on to follow her love of animals and has started up her own small farm near Vay, Idaho. Once the commercial kitchen is completed, she will be making fresh goat cheese from her small goat herd and selling locally as Wheyward Goat Cheese Company.
Linsay Cochran / Summer 2004 & 2005
Email: linsaywylie@gmail.com


I feel incredibly grateful to have found Greentree Naturals. In the course of a season on the farm, I learned more than I could have from reading any number of books. I gained a realistic perspective about what it takes to operate a successful, small-acreage, diversified, organic farm, and solidified my resolve that at some point I will have a farm of my own.
It was abundantly clear that Diane and Thom's sustainable growing (and life!) wisdom is the fruit of years of experience; they graciously shared all this vital knowledge with us daily as we worked alongside them, as well as in the exceptional organic gardening workshops that Diane teaches. If you are seeking a setting in which to saturate yourself in learning about sustainable market growing to decide if it is the right path for you, I whole-heartedly urge you to find your way to the piece of paradise that is Greentree Naturals. Surrounded by beautiful abundance, you will work hard, learn much, be inspired, have more fun than you could imagine in one summer, and find friends of the truest kind!
Linsay returned to her family's heritage farm in New York state that dates back to the Revolutionary war where she is working to develop a small farm enterprise.
Alicia Best/ Summer 2003, 2004, 2005
Email: bestici@hotmail.com


I spent two summers at Greentree Naturals Farm. During that time, I learned why organic is more expensive. It takes a lot of work to pick, clean, weigh and bag lettuce leaves (especially if the leaf was harvested after a rain). I learned about how to put up a hoop house and prepare the beds for planting. Learned the process of plant propagation, how to harvest flowers, seeds, vegetables and fruits. I also was able to spend a couple of afternoons in the garden weeding. Succeeded in becoming a squash wiping, bean picking, goat licker. Saw how to market to restaurants and how to set up a successful CSA. Figured out that the world would be a much nicer place to live if people like Thom and Diane were the norm rather than the exception. This place is great if you want to learn about organic farming and are open to a life lesson on a daily basis.
Alicia has been the farm manager of Penrith Farms located outside of Newport, Washington for several years and has become a successful market grower. She sells to several local restaurants and at the farmers market in Liberty,Lake, WA.
On-Farm Apprenticeship/Internship Overview for Greentree Naturals Organic Farm
Apprenticeships/Internships at Greentree Naturals provide the opportunity to observe, actively experience, and learn about all aspects of successful small acreage organic farming. The focus of our program is to provide opportunities for hands-on experience with a focus on education. All of the crops that we grow are sold locally through a CSA, to restaurants, the farmers market, and our on-farm stand. We work with local caterers and host a number of special educational events on the farm during the growing season.
For the interns to receive the maximum benefit, the farm owners would like to host them for the entire planting/growing/harvesting season if students' schedules permit (April through September). For the initial start up of the program, there will be a six week evaluation trial to determine if the internship is meeting the needs of the farmer and the student. Interns are not required to live on the farm, and other arrangements may be possible. Internship agreements are generally made to meet warmer climates, students' schedules, as well as to allow time for off farm employment if summer income is needed. For students earning college credits, we are more than willing to adapt an internship to best meet their needs.
The following is a list of topics that are typically covered at Greentree Naturals during the growing season, which is typically April 1 – September 31.
Planning the Garden: April
The first step is to plan the procedure out in detail. The market, climate, and the size of the production area will help determine what vegetable and flower varieties to plant. We begin with mapping and garden layout\crop spacing using companion planting and crop rotation as guides. Decide which varieties to direct seed in the field and which varieties to seed inside for transplanting out into the field later. Finding quality seed and determining seed quantity needs is another important step in planning the garden.
Seed Starting: April
Introduction to the basic skills and concepts associated with the sexual propagation of crop plants beginning with review of seed & seedling biology, review of cultural requirements and management practices involved in seed germination and seedling development. Students will gain a solid understanding of starting seeds in a greenhouse environment. Develop a seeding chart for the season's crops that includes scheduling for succession plantings.
Soil Fertility: May - June
"Feed the soil to feed the plant" is a basic principle of organic farming & gardening. This is an introduction to ways that farmers and gardeners develop and maintain soil fertility in certified organic farming systems. Lectures describe the objectives and components of soil fertility management and the various practices used to develop and maintain fertile soil. This is a complex mix of soil management activities including proper tillage, irrigation, crop residue management, and crop rotation planning.
Soil Tillage and Cultivation: May – June
Correct tillage practices are essential to developing and maintaining soil fertility and tilth. Introduction and review of the tools, techniques, and rationale behind mechanized field-scale soil cultivation.
Season Extension: April - September
When considering the possibilities for extending the growing season, we should think about options other than moving south or building a greenhouse. Learn how to construct a simple cost-effective 'hoop house' structure, cold frames, and other methods used for extending the season. Learn how to keep cool season plants growing during the heat of the summer using shade cloth and assess a variety of methods for early planting and longer production.
Direct Seeding and Transplanting: April - June
Gain an understanding of proper transplanting and direct seeding techniques. Assessing equipment for direct seeding in the field: choosing the right seeder, using the seeder and hand seeding. Demonstrations introduce students to the basic skills and concepts associated with direct seeding and transplanting techniques used in field planting. Demonstrate how to prepare seedlings for field transplanting from the greenhouse by hardening off.
Crop Rotation: May - June
Crop rotation is a regular method of planting in which different crops make different demands on the soil each year. Study the benefits of crop rotation, plant nutrition, soil structure, managing insect, disease and weed control in a multi-cropping program. Discussions on multi-year crops and short rotations using green manures.
Selecting and Using Cover Crops: May - July
Cover crops can be a key soil and pest management tool for organic growers. Introduces students to the role and selection of cover crops for organic farming and gardening systems by taking a close look at the advantages and disadvantages. Lecture addresses the influence of cover crops on soils' physical and chemical properties, the role cover crops play in pest management, and the factors to consider when selecting a cover crop for a farm or garden.
Making and Using Compost: June - August
High-quality compost is one of the essential organic matter inputs used to manage soil fertility in organic farming and gardening systems. Students will learn the fundamental concepts and practices used to produce quality compost with aerobic high-temperature composting techniques. Outline will review the benefits of composting and the biology of the composting process, emphasizing the key factors required for quality compost production.
Integrated Pest Management: May – August
Introduction to principles, practices, and skills used to manage beneficial and problem pests within the standards set for certified organic production systems. Discussion about the role of pest management in organic farming systems and how specific practices used in sustainable production serve to prevent the growth of pest populations beyond economic thresholds. Review the principles and practices of field monitoring, catch/trap cropping systems, companion planting and the treatment options that are available for certified organic farms.
Ecological Weed Management: May – August
Managing weeds with organically acceptable techniques is one of the biggest challenges that organic growers face. Introduction to the basic biology of common weed plants found in agricultural systems, and the concepts and strategies used to effectively minimize weed pressure in sustainably managed annual vegetable cropping systems. Demonstrations will also address hand-weeding techniques and tools used in a garden or small farm setting, as well as weed identification.
Harvesting and Post Harvest Handling: May - September
Harvesting is a very important aspect of being a successful grower. Specific crops have particular harvest requirements for optimum yields. A good harvesting system involves more than just getting the crops out of the field. It must also focus on preserving the quality of the produce until it reaches the customer. Food safety requirements and regulations will also be discussed. Review techniques for optimum yields for vegetables, herbs, cut flowers and post harvest handling; how to get the most out of your garden harvest.
Small Farm Marketing: April - September
For today's small acreage farm to succeed in a very competitive market, the farmer must assess the opportunities of the land, plan the crop, grow it, and then be able to sell it. Marketing is one of the important keys to success and often the toughest part of the survival and sustainability of the small acreage farm. We will review techniques for selling at farmers markets, Community Supported Agriculture (CSA), selling to restaurants and having an on-farm stand.
Seed Saving: August – September
If you raise and save seed, you are producing seed for your garden, and, by careful selection over several generations of plants, you can produce plants best suited to your climate and your gardening conditions. Flavor, pest and disease resistance, early bearing and size are among the many characteristics that can be enhanced by judicious selection over a period of years.
The following is a wonderful story that Ana wrote about harvesting tomatoes. Unfortunately, I do not have a photo of her actually in the tomato house. Instead, this is a photo of her washing salad mix for CSA's.
The Tomato House as a Whole Body Experience
Written by Anastasia Kampe at Greentree Naturals summer 2005

Sweet, dense, damp and dripping, fertile, and thoroughly engrossing.
The tomato house was both my favorite and least favorite place on the farm.
The work was tedious, time consuming and cumbersome; it required my full attention. But there I was, warmly surrounded by bite sized snacks and a task that reminded me of a childhood treasure hunt. Not bad.
The tomato house had a 15 foot row of basil down the center, flanked on either side by tomato bushes so dense the short distance (2 feet) to the plastic on the other side was invisible. Reaching skyward, some determined plants had breached the plastic roof of the hoop house.

Harvesting down the middle was not bad, it became more interesting when my ambition got the best of me and I decided that I could reach the fruit on the back side of the plants. I squeeze into an area between the plants and the plastic wall of the hoop house that is usually reserved for the farm's curious orange kitten.
To access the "unreachable tomato zone" I have to crouch down and crawl on my belly to harvest, all the while remaining mindful not to knock off any flowers, damage the plants or get too soaked from the wet walls. It was an almost acrobatic feat; imagine the posture of a soldier crawling close the ground while under enemy fire, his weapon close to his chest. This is my technique, except my weapon is a wicker harvest basket; my only enemies are the sharp edges on the support cages, wet walls and squished tomato landmines.
Each Tuesday I would emerge victorious, covered in mysterious yellow tomato dust with a collection of delicate fruit. Sweet. In taste, in their shape, color and all that it implies.
Those little sun gold tomatoes were not vegetables, they were the sweetest, most flavorful spherical units of joy that I've indulged in on a regular basis.
Dense. The tomato house was thick. Not just in a physical sense of the proximity from plant to plant, but the air was thick. When the doors rolled open, I was immediately engulfed by the thick energy of the plants. I could taste the life in tomato house with each breath as I stepped in.
Damp and drip-drip-dripping. The plants transpire in an enclosed area their whole lives, combined with the solar heat to create a tomato and basil steam bath.
Great on chilly days; stifling on hot days.
Invigorating drips drop off the roof pulling me back to the task at hand.
Fertile. After harvesting in the tomato house I would leave covered in yellow pollen that wouldn't wash off for days; baby tomatoes in my hair and a smile I could not conceal.