Greentree Naturals Newsletter - Fall 2002
Garlic harvest comes on the first of August, right about the time that the bean harvest kicks in; the restaurants increase their orders, caterers are calling for special orders weekly, we had workshops and farm tours, wedding flowers and back to back farmers markets…needless to say, it is one of our busiest months of the year! I can see now, as I learn about the requirements of maintaining a newsletter, that it would seem likely that a monthly is out of the question! I have to tell you that I am learning as I go, so your input is greatly appreciated.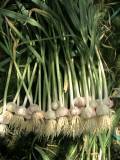 The garlic harvest was the best ever! We have been saving our own seed that originated as Spanish Roja`, and is now known as Rapid Lightning Roja` (named after the creek that flows near by). Thom pretty much single handedly harvested the crop other than one day that friends came and assisted. After harvest, the cleaning process is equally labor intensive. We push through cleaning to get as many braids done as possible to sell. Since our garlic is actually a stiff neck variety, there is a narrow window of opportunity for the braiding process. We ship our garlic all over the country, and have very loyal customers year to year.
We hosted two back to back garlic braiding workshops mid August. I never got around to advertising because it seems that word of mouth always fills up our workshops. I like to keep the hands on events to a maximum of eight people, so had full attendance for both of them.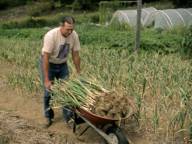 It seemed that once the gardens were in their prime, we might as well go for it with on-farm events; I gave a cut flower production workshop and farm tour for Rural Roots, complete with catered gourmet snacks (from our garden) on August 11th. We followed that a couple of days later with a garden tour for the Hope Garden Club on the 14th; We also hosted an organic wine tasting for one of the restaurant / caterers that we sell to on the 17th. Pend Orielle Pasta's is one of the few places in our town that you can get a nice bottle of organic wine. It was good for folks to see our gardens and where their food was coming from. Of course, the hors d`oeuvres were from our garden, and it was a real treat to see our food displayed so elegantly as well as taste some excellent vino.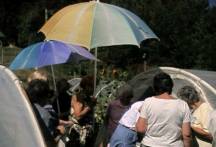 The Garden Club had about twenty-four women of all ages. They came during the heat of the day (hence the big umbrellas for shade!) I use beach umbrellas for shade while harvesting beans – they work great and are pretty cost effective.
I have started a 12 week Tilling the Soil course for entrepreneurs. Even though we have been in business for over ten years, we are experiencing growing pains and the need for improving on my business skills was quite in order. At the conclusion of the course, I should have developed an actual business plan for Greentree Naturals. Like I said, we have pretty much learned as we go along, which is what most small acreage farmers do.
Soon, the frost will arrive. We always have mixed emotions about the arrival of autumn and frost. Most of the gardens will die quickly and the routine of harvesting three days a week will come to a screeching halt. Of course, we do protect many crops and extend the season using agribon and our hoop houses. We are tired and looking forward to the restful times that come with winter. Even though the gardens will freeze, we then have massive clean-up and garlic to plant.
So, things are winding down from the frenzy that seems to come with summer here. We will shift gears with the arrival of autumn. Just because the farming season ends, doesn't mean we quit working. We still have garlic to ship and orders to fill. And then, there is always those bills that have to be paid when there is no more produce to sell. You got to love being a farmer to do what we do!
I wish each of you the best that the changing of the season's has to offer!
Happy Harvest! ----Diane